eSources Wholesale Suppliers Directory
Wholesale suppliers need exposure to many customers in order to grow their wholesale business.  Making the connection to resellers who properly promote and manage their business is very important.  Suppliers must make sure their products are advertised appropriately, and that the shipping and sales transactions happen flawlessly.  When it comes to pairing eager resellers with wholesale suppliers, no one does it better than eSources.
First, eSources has a long established reputation for providing wholesale directory services that list verified suppliers.  This reputation leads many resellers to the eSources website to find the right supplier for their product needs.
Next, eSources makes the listing process for wholesale suppliers extremely easy.  For UK suppliers you can enrol in the Premium Supplier program.
You will receive enquiries from ALL buyers, list an unlimited number of your products, post buy and sell leads, plus track clicks and links back to your website.
For international suppliers you get enquiries from ALL buyers, list an unlimited number of products, view and reply to buy leads, and track clicks or links back to your website.
Next, the registration fee is only £100.00 for 6 months or a year for £150.00 which gives you an extra month for free.  The one year registration makes a lot of sense for most wholesale suppliers – you get a full year of exposure on the best wholesale directory service with thousands of resellers who are eager to buy your products.  With the monthly installment program, making the payments are very easy with your credit card. Here is the complete detail.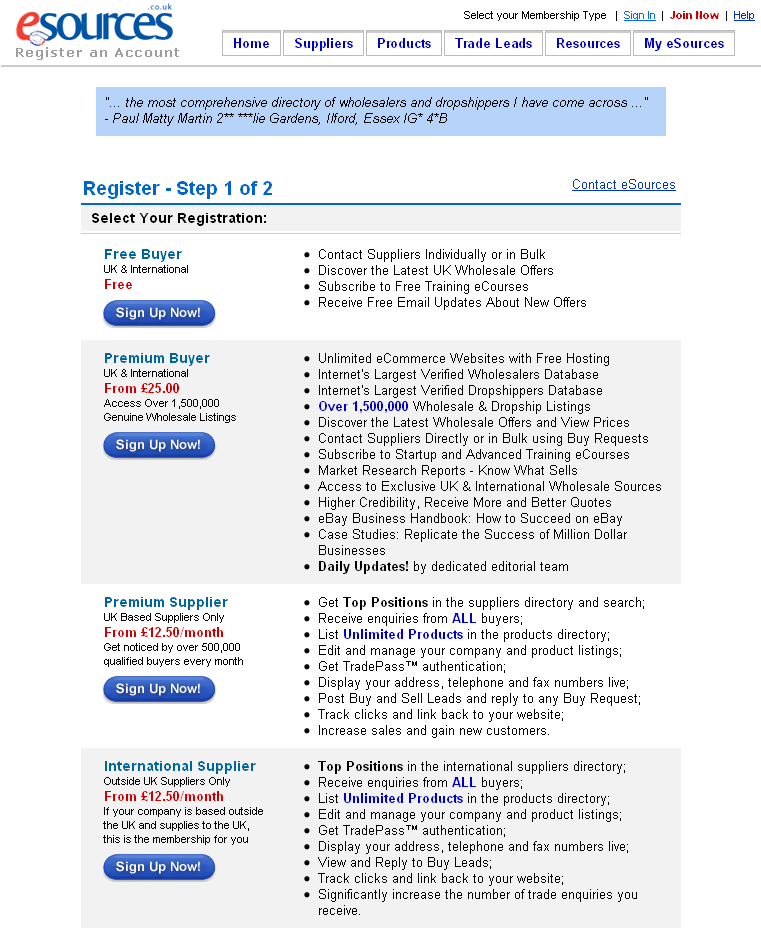 An example of an eSources success story is a clothing supplier that is currently listed.  This supplier was recently approved as a designer clothing wholesale supplier for a major brand of handbags.  The challenge was that the wholesale supplier needed to broadcast this new line to resellers quickly in order to turn the stock for the manufacturer.  By listing on www.eSources.co.uk the supplier posted the products, followed up on the leads, established trade accounts and started shipping products IN TWO DAYS.  The manufacturer was very happy with the wholesale supplier, and the wholesale supplier was equally happy with eSources and the customers that bought the handbags and paid for them without issue.
Resellers have learned to use eSources as their preferred method of finding suppliers.  By listing your business as a wholesale supplier, you gain the same quality reputation that so many other suppliers have with eSources.  And with the good reputation comes honest business resellers who want to purchase your products.
Unfortunately, there are some wholesale directory sites that do not provide the level of service or customers that you desire. Do not be fooled by the fast sales pitch or unbelievably cheap rates.  Some of these wholesale directories are out to scam both the supplier as well as the reseller into believing that they have a valuable service.  Often those sites simply take your money and your potential customer's money, then leave you both wondering where all of the leads are going.
At eSources you do not need to worry about where your leads are going because they come to you through the superb customer service from eSources.  If you are not getting the sales that you expect, you can contact them and they will work with you to make sure your products are at the top positions in the supplier directory and help you choose the right words and terms that connect buyers to wholesale suppliers.
If you have a wholesale business, your first stop on the road to success is at